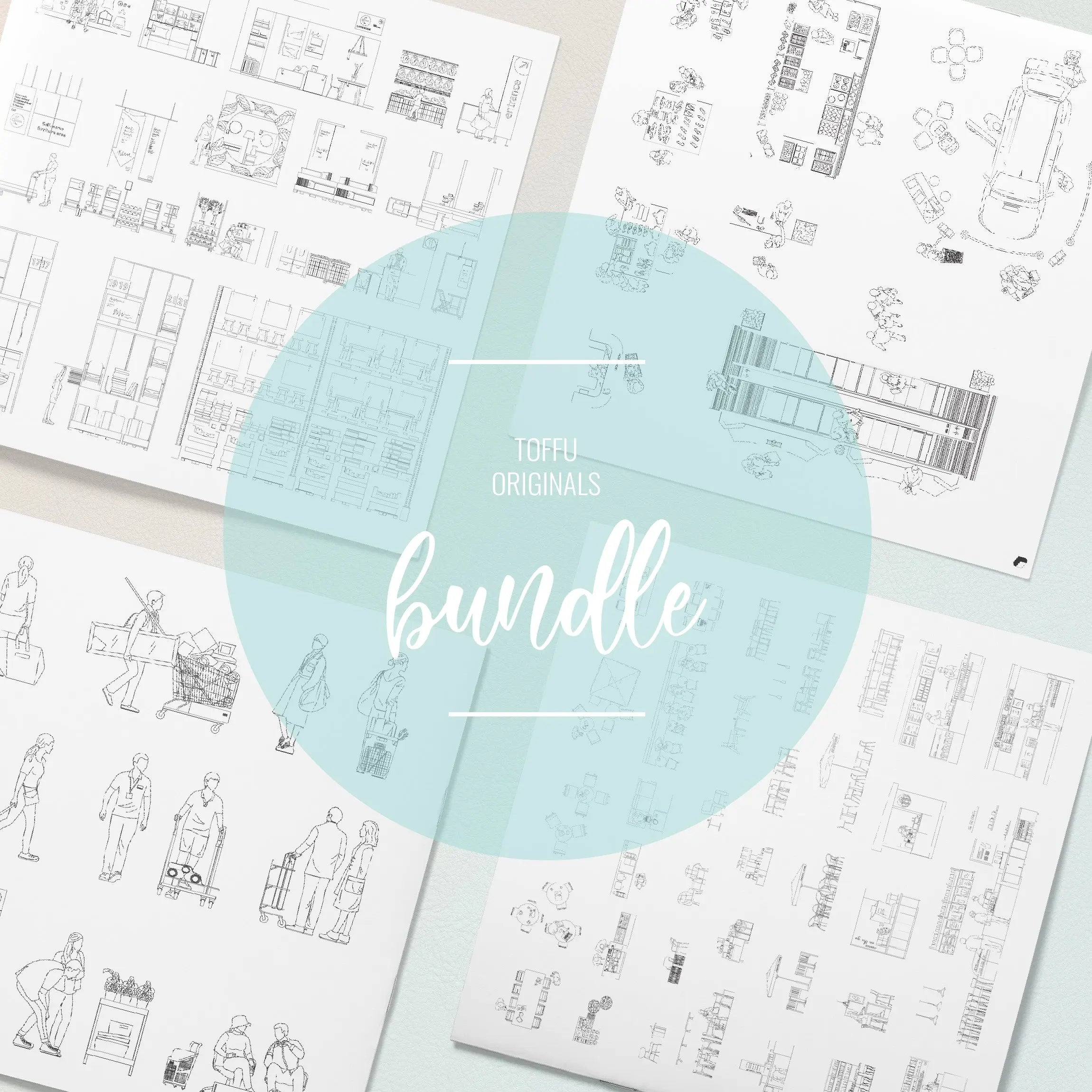 Toffu
Cad Stores & Shops Bundle 3
Cad stores & shops themed cad blocks for your architecture & design projects
Including:
- Cad Starbucks Furniture Elevation & Top View
- Cad McDonald's Furniture Elevation & Top View
- Cad Shopping Mall Top View
- Cad Shopping Mall Top View 2
- Cad Shopping Mall Setups Elevation & Top View
- Cad Supermarket Setups Elevation & Top View
- Cad Ikea Store Setups
- Cad Ikea People
- Cad Ikea People 2

You can also check out the first two bundles here and here!
File Type: Cad
File Size:  83 MB
Format: AI, DWG, PDF, PNG
Technical details: All vector drawings are resizable. You can easily change the colors and backgrounds of AI files in Adobe Illustrator or DWG files in Autodesk Autocad.

Software compatibility: Autodesk Autocad 2013 or newer.

Content: This pack includes common style recolorable and resizable cad blocks. Suitable for any project.

About Cads: People, furniture, plants, and other scales are mostly used in sections, elevations, and plans by architects and designers.
Tags: elevation, furniture, coffee, cafe, store, shop, display, sitting, chair, table, standing, market, flea, fashion, model, bookcase, study, working, bookshop, bookstore, blossom, cafeteria, dining, drink, drinking, friends, display, bar, pub, sign, plant, fastfood, burger, king, mall, consuming, consumer, customer, clothes, grocery, top view, plan view, walking, shopping basket, shopping cart, reception, information, commercial, lounge, information, playground, escalator, receptionist

Cad Stores & Shops Bundle 3